Well, for those of you that made it throug the monster of yesterday's post, I said I was going to be doing sleeves next.
( But you see, I hate making sleeves. )
Thankfully for my husband, German men's Wams' patterns are often a matter of pleating 10 pounds of sleeve-head into a 5 pound armseye. Even I can do that.
But I have always wanted to be able to make my own well fitted sleeve pattern that could actually be mounted on an armseye and still let me move my friggin arm.
You know how it is with sleeves sometimes…
"Hey, could someone get that lantern for me? I can't reach it even though it is hanging just above my head."
I set out to put together something that I could live with last night, all the while imagining that I would be spending at least a couple of hours wrestling with muslins and pins and cursing like a sailor. Since I have pimped

chargirlgenius's document on sleeve head construction1 to others in the past, I decided to actually sit down and read the whole doc again and perhaps even use some of its information for my first attempt.2 In the worst case, it would give me a starting point and some basic fitting tips.
Starting out.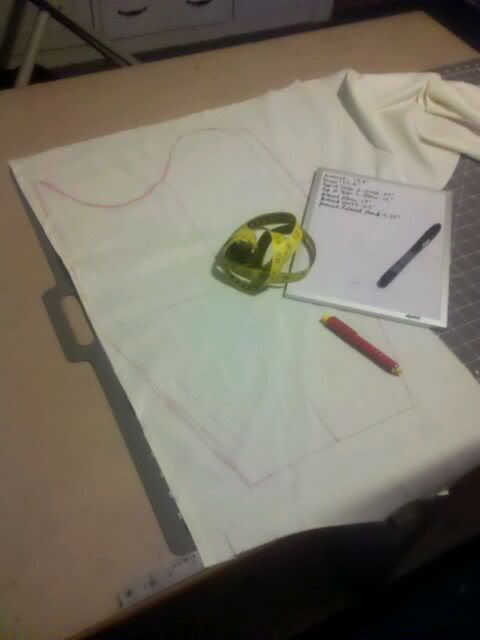 I set up my station, took some measurements, did some plotting-of-points on muslin, added seam allowance as directed, cut out the resultant sleeve (which, let me say here, was not the sort of sleeve shape I am used to from prior constructions – really long trapezoid with a perfectly bisected sine wave at the top), pinned it together, pinned it to the bodice as directed (getting mildly excited because the sleeve-head actually fit to the armseye, and tried the whole thing on.
Holy.
Crap.
It worked, first time. The elbow was a bit baggier than needed, so I took it in a bit. Other than that. Perfect Pattern is Perfect.
My look of glee (and mild sleep deprivation)…

So happy with the results! I will be using this same pattern for my English sleeves, and with some modifications it will end up making me flashier German sleeves in future (plans within plans I tell you). I deviated a bit from my inspiration image in the trimming of the sleeves, and I am using 'cheater' buttons until I have time to make some ball buttons up post-event). In the meantime, here is the finished product.
I went kinda nutty and overstitched all my seams. I just like the way it looks.

Cuffs and temporary buttons.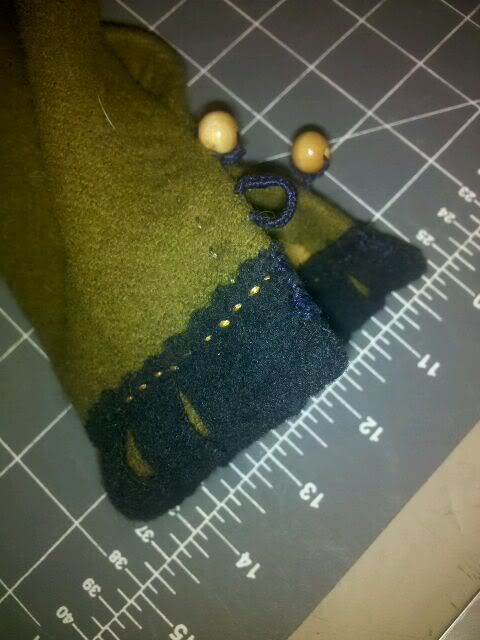 The sleeve isn't this baggy when attached to the dress, which will happen on Friday.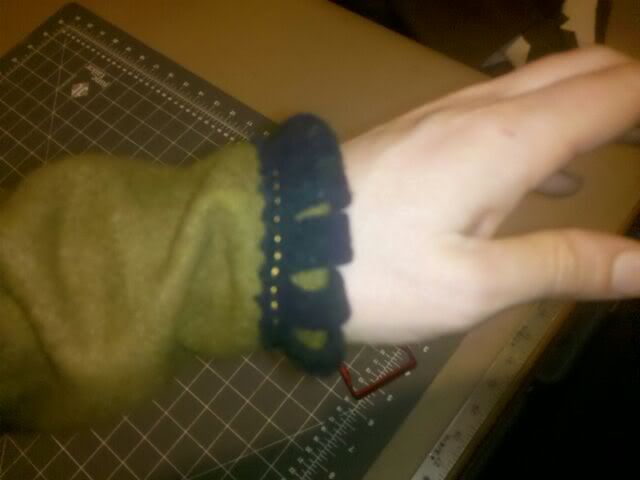 In closing:
1) This reading other peoples work thing, I should do it more often.
2) I think I owe

chargirlgenius a drink at CoCo.
3) HOORAY! SLEEVES!
Up Next: Finishing the skirt, hemming, closures and attaching the sleeves.
If I Have Time: Totally making one of these for this weekend. In red. Because that is how I roll. ;)
1 "Farm Boy… Fetch Me That Pitcher: Or How I Learned to Stop Worrying and Reach My Own Damned Pottery" by Maistresse Mathilde Bourette, written for St. Anne's Guild Costuming Symposium; April 28th, 2007 (and no, it's not in MLA, APA or Turabian…bite me academia…*grin*)
BTW – If you ask I can send you a PDF of this item since I snagged one awhile back. Clearly, my recommendation of it carries more weight now that I have ACTUALLY USED IT. *head desk*
2 Because I am an Old Dog, and even though I had read the article in passing my brain filed it away as 'medieval information' and therefore something I couldn't really use. Have I ever mentioned that I am sometimes a little dumb? Maybe you figured that out for yourself by now.